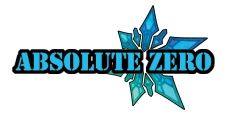 Absolute Zero Translations is a translation fan group that creates unofficial patches for unlocalized games in the Tales series.
History
Absolute Zero began in August 2006 and was originally a personal blog of user throughhim413. One of its first goals was a text translation for the PlayStation version of Tales of Phantasia. This particular project was the effort of a Japanese-language student who sought to expand his horizons, and it was completed in April 2007. Later that year, work began on an unofficial patch for the game, which became the fan group's first release and was released on December 25, 2007.
Several months later, Absolute Zero teamed with Phantasian Productions in working on Tales of Destiny: Director's Cut. The following year, a translation of Tales of Innocence was proposed, and it was released on June 29, 2010. Tales of the Tempest was also translated and followed on April 1, 2013. As of 2014, the group is involved in three ongoing projects: Tales of Phantasia: Cross Edition, Tales of Phantasia: Narikiri Dungeon X, and Tales of Destiny: Director's Cut. The group also has a Tales of Hearts project with Kajitani-Eizan on hold.
Staff
| Name | Expertise |
| --- | --- |
| throughhim413 | Translator |
| Gemini | Programmer (ToP) |
| Kingcom | Programmer (ToI, TotT) |
Projects
The following games are listed in the order they appear on the official website.
Game
Started
Announced
Completed
Translator
Programmer
Tales of Phantasia (PSX)
August 20, 2007
August 24, 2007
December 25, 2007
throughhim413
Gemini
Tales of Phantasia: Cross Edition

---

Tales of Phantasia: Narikiri Dungeon X
June 11, 2013
October 9, 2013
In Progress
throughhim413
Kingcom
Tales of the Tempest[1]
July 2, 2010
April 1, 2013
April 1, 2013
throughhim413
Kingcom

---

StorMyu
Tales of Innocence[2]
July 9, 2008
July 14, 2008
June 29, 2010
throughhim413
Kingcom
Tales of Hearts[3]
June 30, 2009
September 20, 2009
On Hold
throughhim413
Kajitani-Eizan
Tales of Destiny: Director's Cut[4][5]
February 8, 2008

---

July 17, 2014 (resumed)
January 1, 2009
In Progress
throughhim413
Kingcom
Notes
External Links