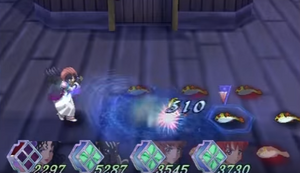 Aqua Stream (アクアストリーム, Akuasutoriimu?) is an Aqua-elemental Force Sorcery spell in Tales of Rebirth, used most recognizably by Hilda Rhambling.
Arte Description and History
When the spell is activated, a small stream of water is shot from the ground at an angle, splashing forward to strike any enemy within its short range. Upon being hit by the spell, enemies are pushed backward, and light enemies can be launched into the air. Aqua Stream must be mastered by Hilda before she can access two of her most powerful spells, Frigid Coffin and Divine Saber.
Appearances
Mothership Titles