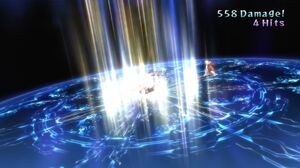 Brilliant Cataclysm (閃覇嵐星塵, Senha Ranseijin?, "Flash Supremacy Storm Star Dust") is Alexei Dinoia's mystic arte in Tales of Vesperia.
Arte Description and History
Alexei transforms his sword into a shichishito, then hurls it across the battlefield at his target. The sword then reappears and hits the same target again from a different direction. Finally, the shichishito stabs the center of the field from above, causing a large eruption of light to damage the party. There is a Secret Mission related to Alexei's use of this arte, requiring a party member to immediately attack him after its use.
Appearances
Mothership Titles
In-Game Descriptions and Battle Quotes
Tales of Vesperia
Japanese Quote: 舞い飛べ聖剣…! 閃覇嵐星塵!
Romanized Quote: Mai tobe seiken...! Senha Ranseijin!
Localized Quote: "Fly, O holy sword! Brilliant Cataclysm!"