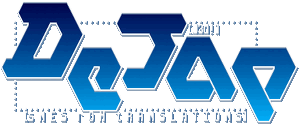 DeJap Translations is a translation fan group that creates unofficial patches for unlocalized games. Regarding the Tales series, they have created a Tales of Phantasia patch for the Super Famicom version of the game.
Staff
Name
Expertise
Antiriad
Founder
Programmer
Dark Force
Group Coordinator
Programmer
Webmaster
Bisqwit
Web Designer
Programmer
Tomato
Translator
Chess Piece Face
Translator
Web designer
makokichi
Translator
Unafarmer
Translator
AWJ
Programmer
Translator
External Links
Ad blocker interference detected!
Wikia is a free-to-use site that makes money from advertising. We have a modified experience for viewers using ad blockers

Wikia is not accessible if you've made further modifications. Remove the custom ad blocker rule(s) and the page will load as expected.