This article is about the arte named "Flying Dragon". For the term used in Tales of Destiny and Tales of Destiny 2, see Flying Dragon (term).
Flying Dragon (空襲剣, Kuushuuken?, "Air Attack Sword"[1]) is an arte that is normally exclusive to Leon Magnus, but has appeared once as an arte for Veigue Lungberg in Tales of Rebirth.
Arte Description and History
Flying Dragon involves the user performing a low, forward sweep before slashing diagonally backward. In the PlayStation 2 remake of Tales of Destiny, a final spiking attack forward is added.
Appearances
Mothership Titles
Escort Titles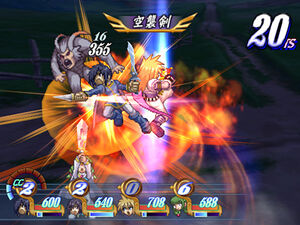 Mobile Titles
Fan-Translated Names
In-Game Description and Battle Quotes
Tales of the World: Radiant Mythology
Localized Description: "Master: Dash forward to cut the enemy, then jump away."
Tales of the Rays
Localized Description: "A rapid charge that slices diagonally upward through the sky."
References
↑ Tales Series Translation FAQ by KusanagiLord02 GameFAQs (2006-11-05) Retrieved on 2008-07-24.
Ad blocker interference detected!
Wikia is a free-to-use site that makes money from advertising. We have a modified experience for viewers using ad blockers

Wikia is not accessible if you've made further modifications. Remove the custom ad blocker rule(s) and the page will load as expected.