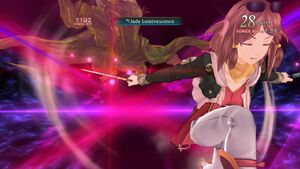 Jade Luminescence (嵐月流・翡翠, Rangetsuryuu Kawasemi?) is a mystic arte exclusive to Rose in Tales of Zestiria.
Arte Description and History
Rose delivers a few spinning slashes with red cuts, followed by a kick with a violet streak. She then rushes through the enemy, leaving a pink streak and performing a cross slash with violet cuts.
Appearances
Mothership Titles
In-Game Descriptions and Battle Quotes
Tales of Zestiria
Localized Description: "A mystic arte that unleashes a stunning sword dance. During a combo in normal state at BG3 or higher, press and hold O + R2 to acivate."
Ad blocker interference detected!
Wikia is a free-to-use site that makes money from advertising. We have a modified experience for viewers using ad blockers

Wikia is not accessible if you've made further modifications. Remove the custom ad blocker rule(s) and the page will load as expected.