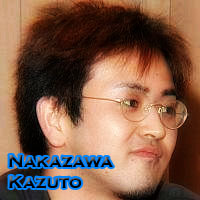 Kazuto Nakazawa (中澤 一登, Nakazawa Kazuto?), born March 4, 1968 in Niigata Prefecture, Japan, is a Japanese character designer and director of numerous anime series and video games. He also goes by the pseudonym Takeshi Tsuji (辻 武司, Tsuji Takeshi?). His relation to the Tales series lies solely in his contributions to Tales of Legendia, having designed all characters in the game with official artwork. These designs were released in The Art of Tales of Legendia, which was published by DK Publishing in 2006.
Works
Mothership Titles
References
Ad blocker interference detected!
Wikia is a free-to-use site that makes money from advertising. We have a modified experience for viewers using ad blockers

Wikia is not accessible if you've made further modifications. Remove the custom ad blocker rule(s) and the page will load as expected.