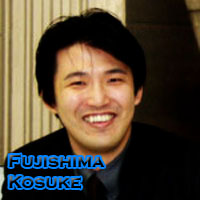 Kousuke Fujishima (藤島 康介, Fujishima Kousuke?), born July 7, 1964 in Chiba, Japan, is a Japanese manga artist. He first came to public attention as an editor of Puff magazine, his first job after completing high school. Fujishima soon began designing for the Tales series, beginning with Tales of Phantasia, but not returning to do artwork for the series until Tales of Symphonia. Since then, he only denotes artwork for the Team Symphonia games.
Works
Mothership Titles
Escort Titles
References
Ad blocker interference detected!
Wikia is a free-to-use site that makes money from advertising. We have a modified experience for viewers using ad blockers

Wikia is not accessible if you've made further modifications. Remove the custom ad blocker rule(s) and the page will load as expected.