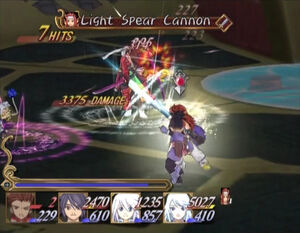 Light Spear Cannon (閃光墜刃牙, Senkou Tsuijinga?, "Flash Light Crash Blade Fang"[1]) is an upgraded version of Light Spear, first appearing in Tales of Symphonia.
Arte Description and History
When the arte is executed, the user spins around once or slashes upward into the air to launch the target upward, followed by several quick stabs diagonally into the air. The user stays rooted to the ground during the execution of this arte, so it is much easier to combo with than the opposing attack, Victory Light Spear. This arte is also ideal for juggling enemies in long combo chains with other party members since it can prevent the enemy from falling to the ground.
In Tales of the Abyss, if the user's thrusts do not connect with an enemy, the final hit will be canceled, forcing an extended recovery animation. This makes it difficult to chain other attacks after Light Spear Cannon. This arte can also be used within a complete Wind or Light FOF Circle to convert it into Light Blast.
Appearances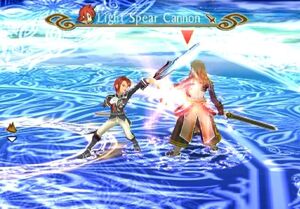 Mothership Titles
Escort Titles
Mobile Titles
Fan-Translated Names
In-Game Descriptions and Battle Quotes
Tales of Symphonia
Localized Description: "Lv. 3 Sp. Attack: upward cut from a spin attack and end with a thrust."
Tales of the Abyss
Localized Description: "Arcane: A spinning blade attack that knocks the enemy into the air."
Tales of the World: Radiant Mythology
Localized Description: "Arcane: A spinning blade attack that knocks the enemy into the air."
References
↑ Tales Series Translation FAQ by KusanagiLord02 GameFAQs (2006) Retrieved on 2008-04-02.
Ad blocker interference detected!
Wikia is a free-to-use site that makes money from advertising. We have a modified experience for viewers using ad blockers

Wikia is not accessible if you've made further modifications. Remove the custom ad blocker rule(s) and the page will load as expected.