Mizuho
Talk

0
2,660pages on
this wiki
Mizuho, the Mystical Village, is a village populated by ninjas, and is the home town of Sheena Fujibayashi. The village resides in the world of Tethe'alla in Tales of Symphonia.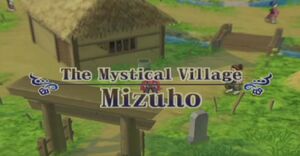 Geography
Mizuho is located near the Tower of Salvation in Tethe'alla, surrounded by mountains, the Gaoracchia Forest and a lake. The village's chief is Igaguri, but as he has been in a coma for many years, the vice chief Tiga is performing his duties until he wakes up. The villagers' names are not their true names, since only the respected families of a person can learn their true names. The names of Sheena, Kuchinawa, and Orochi are aliases used as their public identities.
History
Sheena was forced to take Lloyd Irving and the others to Mizuho on their way to Ozette, because they were trying to hide from the Papal Knights were chasing after them. People within the village became shocked and disgusted when Sheena brought strangers to their secret village, but Tiga says that they will help the group, but only if they promise to let them move to Sylvarant, as they are regarded as traitors in Tethe'alla. Tiga will then send Sheena to follow the group, now as a representative of Mizuho. After getting the Zircon from Altamira, it is possible to go to Mizuho in order to fight Kuchinawa, though then just with Sheena without being able to use items. Afterwards, they hear news that Igaguri is waking up, and Sheena reveals that Igaguri is her foster grandfather, as he found her in the Gaoracchia Forest when she was little and took care of her. They then wonder if it is possible that Igaguri's spirit still is in the Temple of Lightning after his battle against Volt many years ago, and they make their way to the temple. After managing to get his spirit back to his body, he declares to the people of Mizuho that Sheena will become his successor, and Sheena will obtain the title "Successor", which provides her with a new set of formal ninja wear in honor of her position.
Trivia
The name Mizuho is based on one of Japan's more ancient and poetic names.
The culture of the village, architecture of the buildings, and clothes and names of the villagers draws influence from the Sengoku period.