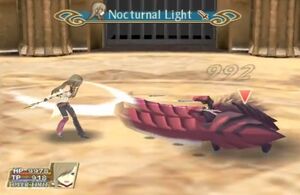 Nocturnal Light (ノクターナルライト, Nokutaanoruraito?) is a base arte used exclusively by Tear Grants from Tales of the Abyss.
Arte Description and History
Tear throws several knives in a broad fan. Through the use of an Earth- or Dark-elemental FOF Circle, Nocturnal Light may become Inlay Nocturne.
Appearances
Mothership Titles
Escort Titles
Mobile Titles
Animation
In-Game Descriptions and Battle Quotes
Tales of the World: Radiant Mythology
Localized Description: "Master: Hurl blades towards the enemy."
Tales of the Rays
Localized Description: "A barrage of knives thrown in front of the user."
Ad blocker interference detected!
Wikia is a free-to-use site that makes money from advertising. We have a modified experience for viewers using ad blockers

Wikia is not accessible if you've made further modifications. Remove the custom ad blocker rule(s) and the page will load as expected.