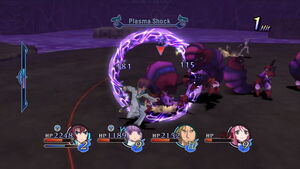 Plasma Shock (紫電滅天翔, Shiden Mettenshou?, "Violet-Volt Destroying Heaven Soar") is a burst-style arte exclusive to Asbel Lhant from Tales of Graces.
Arte Description and History
Asbel creates a purple circle of lightning in front of him, through which he performs a series of thrusts imbued with electricity, followed by a final slash that summons a bolt of thunder from above, sending the enemy into the air. When this arte is used twice consecutively, the animation changes to involve a thunder attack that hits multiple times, again calling a bolt of thunder upon the enemy to hit multiple times while he slashes into the air. In Tales of the Rays, this arte is Light-elemental.
Appearances
Mothership Titles
Escort Titles
Mobile Titles
In-Game Descriptions and Battle Quotes
Tales of Graces
Localized Quote: "Let destruction reign!"
Tales of the Rays
Localized Description: "A series of thrusts wreathed in purple lightning."
Ad blocker interference detected!
Wikia is a free-to-use site that makes money from advertising. We have a modified experience for viewers using ad blockers

Wikia is not accessible if you've made further modifications. Remove the custom ad blocker rule(s) and the page will load as expected.