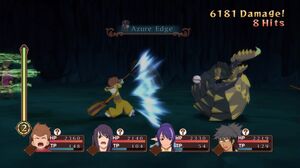 Reaper Knock (鬼神千裂ノック, Kishinsenretsu Nokku?, "Kishinsenretsu Knock") is an arcane arte exclusive to Karol Capel in Tales of Vesperia.
Arte Description and History
Karol tosses a ball into the air and then swings his weapon at it like a baseball bat, sending it flying toward the target. Three balls are used with the "Attack Arte Charge" skill equipped and "Mighty Charge" used.
Appearances
Mothership Titles