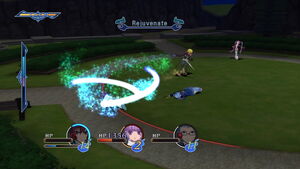 Rejuvenate (レイズソウル, Reizusouru?, "Raise Soul") is a burst-style arte exclusive to Sophie from Tales of Graces.
Arte Description and History
Rejuvenate is a healing spell that revives a knocked-out ally with a small amount of HP healed. It acts as a weaker but faster version of the classic Resurrection spell. It appears as two blue wisps that spiral down onto the ally and form a circle on the ground.
Appearances
Mothership Titles
Escort Titles
Ad blocker interference detected!
Wikia is a free-to-use site that makes money from advertising. We have a modified experience for viewers using ad blockers

Wikia is not accessible if you've made further modifications. Remove the custom ad blocker rule(s) and the page will load as expected.