Repede (ラピード, Rapiido?) is Yuri Lowell's dog and loyal sidekick. Repede fights with daggers and is constantly carrying a pipe in his mouth, which is a memento of his previous owner, Niren Fedrock, who was killed during the events of the movie, Tales of Vesperia: The First Strike. Repede is the son of Lambert, who Yuri was forced to kill after Lambert was possessed by a monster. As a puppy, Repede already had developed a habit of carrying objects in his mouth, such as bones or sticks. He is the second non-humanoid playable character after Eugene Gallardo from Tales of Rebirth, but the first to walk on four feet.
Appearance and Personality
Repede is friendly around those he trusts and children who like dogs, but dislikes it when approached by people he does not know. It is an ongoing event in which the heroine Estelle wants to pet Repede, but is rejected by him. Repede also carries a chain from his previous owner and uses his previous owner's bodhi blastia for combat.
Fighting Style
Repede is one of the faster, more mobile characters in battle with naturally high agility and skills that place emphasis on running such as Dash, which further increases his speed, in addition to ones that heal HP and TP and prevent staggering during his movement. He is the only character to be able to steal items from opponents with the arte Thievery. He is also an item expert, increasing the effects of items with his passive skills to up to double their effectiveness, and without having to wait to use more, and occasionally without using the item up. Repede's unusually adept ability to use weapons meant for human use is both admired and sometimes made fun of by Yuri and his other companions. The interesting thing about Repede in battle is the fact that he is a dog. Since Repede is very short, several attacks will go over his hitbox completely to negate much of the damage that a character would normally receive.
Relationships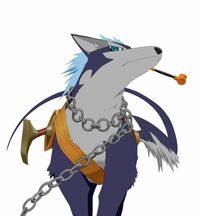 Rita Mordio - Rita is one of the very few people Repede takes an interest in, and in the first half of the story, she frequently calls him "the dog", "pooch", or "Spot". In a skit, Rita becomes jealous when it seems Yuri can understand him. In later parts of the story, she calls Repede by his name and compliments him.
Patty Fleur - Patty and Repede develop a great friendship with each other, and it is shown throughout the story that Repede cares deeply for Patty, who he is always seen playing with. When Patty recovered part of her memories, she isolated herself from the others for a while, but Repede continuously followed her because he was worried. Sometimes, Patty calls Repede her "special friend", and when the party met Patty for the first time, she and Repede immediately got along, making Estelle, who struggled forming a bond with Repede, jealous.