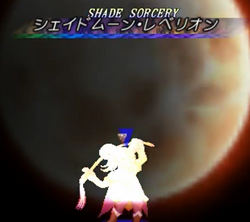 Shademoon Rebellion (シェイドムーン・レベリオン, Sheidomuun Reberion?) is a Force Sorcery exclusive to Zilva Madigan in Tales of Rebirth.
Arte Description and History
Zilva performs this arte at the beginning of the battle, casting it as if it were a spell. A full moon appears behind her and shines brightly as a cut-in image of her appears from within the moon and dark energy envelops the field, hitting all party members for significant damage. The arte is of the game's Shade element.
Appearances
Mothership Titles
Ad blocker interference detected!
Wikia is a free-to-use site that makes money from advertising. We have a modified experience for viewers using ad blockers

Wikia is not accessible if you've made further modifications. Remove the custom ad blocker rule(s) and the page will load as expected.