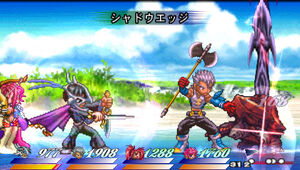 Shadow Edge (シャドウエッジ, Shadouejji?) is a Dark-elemental novice tier spell in Tales series.
Arte Description and History
When used, a small portal of darkness opens on the ground, from which a purple, imbued lance fires upward, piercing the target. In Tales of Destiny 2, it can be extended into Bloody Cross, which shatters the spear and converts it into a cross of bloody energy. In Tales of Innocence R and Tales of Hearts R, the lance shoots at an angle.
Appearances
Mothership Titles
Escort Titles
Mobile Titles
Ad blocker interference detected!
Wikia is a free-to-use site that makes money from advertising. We have a modified experience for viewers using ad blockers

Wikia is not accessible if you've made further modifications. Remove the custom ad blocker rule(s) and the page will load as expected.