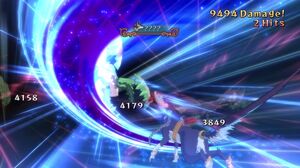 This article is about the mystic arte used exclusively by Repede. For the arcane arte and Blast Caliber that shares a similar name in Japanese media, see ZAN!
Slash!! (斬!!, Zan!!?, "Slash!!"), displayed as ???? during the first time it is used during battle, is Repede's first mystic arte in Tales of Vesperia.
Arte Description and History
When the mystic arte is activated, Repede rushes through the enemy with a powerful thrust, followed by a quick turn to face the opponent that is now behind him, while the camera pans to his back. He then slashes upward at the enemy with his dagger. When this attack is used for the first time, it is labeled as "????". Immediately after the end of battle, a new optional skit becomes available, in which the party decides to name this unknown attack as "Slash!". If the skit is not activated, the name will remain as "????" during battle.
Appearances
Mothership Titles