This article contains contents that are not localized in North America or Europe.
The following contents have not been released in the English language and are based on data from the Japanese version of this game. Details are subject to change at any given time.
Tales of Berseria (テイルズ オブ ベルセリア, Teiruzu obu Beruseria?) is the sixteenth Mothership Title in the Tales series. The title was announced on June 6, 2015 during the Tales of Festival 2015, while the localization was confirmed on December 21, 2015. Ufotable produced the animated cutscenes for the game. The main motif of the game is a conflict between emotion and reason. Tales of Berseria is a distant prequel to Tales of Zestiria. Its characteristic genre is "RPG of Discovering Your Own Reasons to Live" (君が君らしく生きるためのRPG, Kimi ga Kimirashiku Ikiru tame no RPG?).
Story
The game is set in the Wasteland, ruled by the Holy Midgand Empire, with a continent in its center becoming known as Glenwood in the distant future. The game's world focuses heavily on the building of ships and ship technology. The Wasteland is home to many large lands and islands, with its northern and southern hemisphere temperatures ranging from enduring winters to everlasting summers. There exist Malakim, which act as slaves to humans. Daemons are humans turned into monsters via an illness known as Daemonblight (業魔病, Goumabyou?, "Resentful Demon Disease"), which reduces a person to a violent state and makes them eager to attack others, although some people are able to maintain their sense of reason. There is also an event called Scarlet Night (緋の夜, Hi no Yoru?), where at night, the moon turns a brilliant red, which is hinted to have a connection with Daemonblight. There also exists a "savior" who will bring order back to the world.
Characters
Playable Characters
Non-playable Characters
Gameplay
Standard Gameplay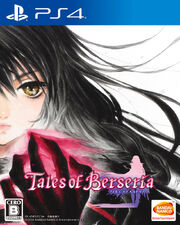 A few new features have been added to the game. The first are items called "potentites", which grant additional effects and abilities during battle. A feature called "Code Red Daemon Hunting" has also been introduced, in which the player fights Daemons called "Code Red" scattered around the world to earn powerful items such as potentites as reward; a player can meet a Code Red Daemon even without speaking to the quest-giver first. Another feature is called "Wandering Enemies". If a player meets a certain condition in battle, a specific Daemon will appear, being more dangerous than a Code Red Daemon, appearing in multiples, and turning invincible for a limited amount of time, which requires strategic battle plans.
Following Tales of Zestiria, the game makes use of the Katz. Throughout the game, there are opaque flames called "Katz Spirits" that can be collected, and with enough of them, they will allow the player to open "Katz Boxes", which are special items such as equipment and accessories scattered across the continent. Tales of Berseria is the first game to allow multiple DLC costume colors, as well as posing characters in the accessory menu screen. The game introduces cooking levels for each character from when they cook a dish, likewise allowing them to level up in their skills and efficiency. A new form of transportation called the Geoboard (レアボード, Reaoodo?, Rheaboard) is a land-based version of the Rheairds. It can be customized just as character appearance.
Battle Gameplay
Known as Liberation-LMBS, Linear Motion Battle System retains smooth transition to battle in the same manner as Tales of Zestiria, also reusing its Blast Gauge (BG) mechanic. It also has several changes made to its standard controls, including default Free Run, a freely-rotating camera, and the possibility to assign multiple artes to the "Triangle" (

), "Square" (

), "Circle" (

), and "X" (

) buttons, allowing different artes to be linked together in a variety of combinations. The number of artes that can be executed in a single streak is dependent on the character's Soul Gauge (SG) (ソウルゲージ, Souru Geeji?). Every battle starts with 3 SG, while defeating an enemy grants one more SG unit. Once the Soul Gauge fills up, it will allow a character to use their Break Soul (ブレイクンウル, Bureiku Souru?), which enables them to exceed the upper limit of artes in a combo and invoke a special effect.
When using Break Soul, the player can exceed the upper limit of performable artes in a combo, and each character can use their unique special action. These special actions are wildly different, depending on the character. The player can introduce more choices and apply greater strategic play by switching the controlled character during battle to react to the enemy and situation. Break Soul has multiple levels, and the player can unlock more abilities as they progress through the game. When a character has three Souls or more, the player can press the "R2" (

) button to consume one Soul and execute Break Soul. After using Break Soul, one of three out of the potential five Souls from the Soul Gauge will be lost after its activation, but it will allow further increase in complex and max-hit combos.
In addition, a game mechanic called Switch Blast can be executed by consuming Souls. Switch Blast allows a controlled character to switch with a character who is not on the battlefield. The switch will result in the summoned character performing a special arte. Before once switches, the summoned sub-character will have one more Soul. Each character has their own unique Switch Blast technique that can be linked into combos.
Trivia
Tales of Berseria is the only Mothership Title in the series to feature a lone female central protagonist, as Milla Maxwell shared the central protagonist role with Jude Mathis in Tales of Xillia.
On December 8, 2016, Bandai Namco Entertainment released a preview clip of the English dubbing, which included scenes from the beginning of the game, one of which depicting the events leading to Velvet's resolve to kill Artorius Collbrande, as well as the means by which she got her daemonic arm. That scene played a bit differently regarding several scenes pertaining to Laphicet Crowe. On December 9, 2016, Bandai Namco Entertainment released a statement on Facebook stating that the changes were made mainly to maintain the age rating of 16, like the past few Tales games have maintained, and assured that it was the only graphic change made.
External Links
Tales of Berseria (Demo) Data
Ad blocker interference detected!
Wikia is a free-to-use site that makes money from advertising. We have a modified experience for viewers using ad blockers

Wikia is not accessible if you've made further modifications. Remove the custom ad blocker rule(s) and the page will load as expected.