Tales of Fandom Vol.1
Talk

0
2,653pages on
this wiki
"Sorry, babe, but we can't do it here. ♥"
This article contains contents that are not localized in North America and/or Europe.
The following contents have not been released in the English language, and are based on data from the Japanese version of this game. Details are subject to change at any given time.
Tales of Fandom Vol.1
Information
Game Systems
PlayStation
Publishers
Namco
Japanese Releases
January 31, 2002
Ratings
unrated
Tales of Fandom Vol.1 (テイルズ オブ ファンダム Vol.1, Teiruzu obu Fandamu Voryuumu Wan?) is a compilation game for the Sony PlayStation. It includes gameplay that features characters and elements from Tales of Phantasia, Tales of Destiny, and Tales of Eternia.
This game is set up as an adventure game with actual gameplay elements to explore and unlock extra bits. Nearly every character from the franchise is here to meet, talk, or play. Some elements in the game include exploring, playing a puzzle game like the Craymel Lab, a scene maker where characters can play out a created scenario, and an extensive gallery. It was released on January 31, 2002, and was only sold in Japan.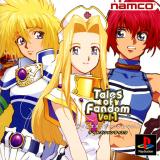 Version History
Game Title
System
Catalog Number
Release Date
Region
Tales of Fandom Vol.1:
Tales Fan Disc (Cress Version)
テイルズ オブ ファンダム Vol.1
テイルズファンディスク (クレスバージョン)
PlayStation
SLPS-03375
January 31, 2002
Japan
Tales of Fandom Vol.1:
Tales Fan Disc (Mint Version)
テイルズ オブ ファンダム Vol.1
テイルズファンディスク (ミントバージョン)
PlayStation
SLPS-03376
January 31, 2002
Japan
External Links