This article is based on data from a Japanese-only game.
The following content has not been released in the English language, so details are subject to change at any given time.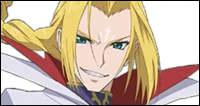 The following a list of all artes available to Kronos in Tales of Destiny (PS2). All artes that are exclusive to the Director's Cut version of the game are highlighted with a gray background.
Miktran (ミクトラン - "Kronos")
Arte Name
Arte Type
Elemental Attributes
Requirements
Chaos Flare[1]
カオスフレア
Strike Arte
Dark
-
Dominate Flame[1]
ドミネイトフレイム
Strike Arte
Dark
-
Seizured[1]
シジュアード
Strike Arte
Dark
-
Ambivalence
アンビバレンス
Magic Arte
Light

used when Blast reaches 100% at around half HP

Extension
エクステンション
Magic Arte
Sonic
-
Holy Lance
ホーリーランス
Magic Arte
Light
-
Ray
レイ
Magic Arte
Light
-
Meteor Swarm
メテオスォーム
(Meteor Storm)
Magic Arte
-

used when Blast reaches 100% at high HP

Seraphic Feather
セラフィックフェザー
Magic Arte
Light

used when Blast reaches 100% at low HP
Miktran Excessive (ミクトランイクゼシブ)
Notes