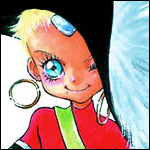 Skills (術・技 - Jutsu-Waza - "Artes")
Arte Name
Elemental Attributes
Damage Spread
Max Hits
Cancel Level
[1]
TP Cost
Requirements
Pow Hammer
ピコハン
Pikohan
Earth
1.20 x ?
 ?
1
12

Combo Command: ↓ ↘ → +

"Skill" button

30% chance to inflict the "Dizzy" status ailment on enemies damaged by this attack

Toss Hammer
ポイハン
Poihan
Water
1.50 x ?
 ?
1
16

obtained at Celestia, GPS 183, 130
Combo Command: → ↓ ↘ +

"Skill" button

20% chance to inflict the "Poison" status ailment on enemies damaged by this attack

Ice Hammer
コチハン
Kochihan
Ice
1.80 x ?
 ?
1
20

obtained at Inferia, GPS 118, 122
Combo Command: ↓ ↓ +

"Skill" button

4% chance to inflict the "Freeze" status ailment on enemies damaged by this attack

Rover Tool
ローバーアイテム
Robber Item
(Thievery)
-
2.00 x ?
 ?
2
15

Combo Command: → ← → +

"Skill" button

chance to steal an item from the targeted enemy

Para Ball
パラライボール
Paraly Ball
Lightning
3.00 x ?
 ?
2
16

6% chance to inflict the "Stun" status ailment on enemies damaged by this attack

Eternal Hammer
エターナルスロー
Eternal Throw
-
-
2.00 x ?
1.00 x ?
-
3
60

continuously throws hammers at the enemy
consumes TP at a constant rate until TP reaches 0
hold ← or → during the attack to move slightly toward that direction, without changing the direction that Chat is facing
Notes
↑

Cancel level refers to what skill can cancel into another; a skill with a higher cancelation level can, when commanded in the final stages of a lower leveled skill, cancel the final motions of that move and immediately activate.
References
Ad blocker interference detected!
Wikia is a free-to-use site that makes money from advertising. We have a modified experience for viewers using ad blockers

Wikia is not accessible if you've made further modifications. Remove the custom ad blocker rule(s) and the page will load as expected.