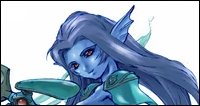 The following a list of all artes available to Undine in Tales of Eternia.
Arte Name
Arte Type
Elemental Attributes
Requirements
Spear of Baptism
洗礼の矛槍
Senrei no Musou
Strike Arte
Water
-

the resulting projectile pierces through the target unless guarded

Subterranean Divide
峻別の伏流
Shunbetsu no Fukuryuu
Strike Arte
Water
-
Aqua Edge
アクアエッジ
Craymel Arte
Water
-
Spread
スプレッド
Craymel Arte
Water
-
Maelstrom
メイルストローム
Craymel Arte
Water

extends from Spread on "Hard" difficulty or above
Ad blocker interference detected!
Wikia is a free-to-use site that makes money from advertising. We have a modified experience for viewers using ad blockers

Wikia is not accessible if you've made further modifications. Remove the custom ad blocker rule(s) and the page will load as expected.