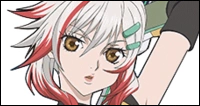 The following a list of all artes available to Fourier in Tales of Graces.
Arte Name
Arte Type
Damage Type
Requirements
Al Fine[1]
終焉の宣告
「アル・フィーネ」
Shuuen no Senkoku
(Death Sentence)
Strike Arte
-
-
Freezing Bloom[2]
氷霧の白薙
「フリージング」
Hyoumu no Byakutei
"Freezing"
Strike Arte
Shot
Freeze
-
Hawk Nail[1]
夜鷹の爪跡
「ホークネイル」
Yayou no Souseki
(Nighthawk Talon)
Strike Arte
Shot
-
Star Crusher[2]
星屑の破者
「ブレイクシュート」
Hoshikuzu no Hasha
"Break Shoot"
Strike Arte
Shot
-
Sudden Impact[2]
突然の衝撃
「サドンインパクト」
Totsuzen no Shougeki
Strike Arte
Shot
-
Vicious Circle[2]
悪運の連鎖
「ガトリングイビル」
Aku'un no Rensa
"Gatling Evil"
Strike Arte
Shot
-
Sapphiring Squad
S・エクシード
「シアンディーム・エクシード」
Syan Deem Exceed
Mystic Arte
-

Eleth Break must be active
activated after staggering an enemy
Notes
Ad blocker interference detected!
Wikia is a free-to-use site that makes money from advertising. We have a modified experience for viewers using ad blockers

Wikia is not accessible if you've made further modifications. Remove the custom ad blocker rule(s) and the page will load as expected.