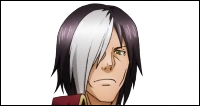 The following a list of all artes available to Kurt Bessel in Tales of Graces.
Arte Name
Arte Type
Damage Type
Requirements
Crow[1]
旋風鴉
Tsumujigarasu
(Wheeling Raven)
Strike Arte
-
-
Dragon[1]
天翔双龍[2]
Tenshousouryuu
Strike Arte
-
-
Hornet[1]
血牙蜂
Jigabachi
Strike Arte
-
-
Machine[1]
愚乱機械
Gurankikai
"Grand Machine"
Strike Arte
-
-
Reptile[1]
死蜥蜴
Shitokage
Strike Arte
-
-
Tiger[1]
狩炎孤虎
Ryouenkodora
Strike Arte
-
-
Devil's Bayonet
悪魔銃槍
「デモンガンス」
Akumajuusou
"Demon Guns"
Mystic Arte
-
-
Notes
↑

Supplementary materials show this can also be written as "天翔双竜" without change in pronunciation.
Ad blocker interference detected!
Wikia is a free-to-use site that makes money from advertising. We have a modified experience for viewers using ad blockers

Wikia is not accessible if you've made further modifications. Remove the custom ad blocker rule(s) and the page will load as expected.