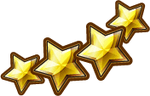 The following is a list of all ★4 Heroes in Tales of Link, grouped by game of origin. Due to the mobile, online nature of the game, this page has missing localizations, which are indicated with gray backgrounds, and may not be complete due to limited edition items or items added in future releases. A compilation of all ★4 Heroes can be found here.
References
Ad blocker interference detected!
Wikia is a free-to-use site that makes money from advertising. We have a modified experience for viewers using ad blockers

Wikia is not accessible if you've made further modifications. Remove the custom ad blocker rule(s) and the page will load as expected.