This article is based on data from a Japanese-only game.
The following content has not been released in the English language, so details are subject to change at any given time.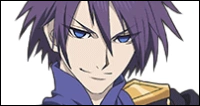 The following a list of all Force available to Saleh in Tales of Rebirth.
Arte Name
Arte Type
Elemental Attributes
Requirements
Chirisazame
散沙雨
(Sword Rain)
Physical Force
-
-
Wind Edge
ウィンドエッジ
Force Sorcery
Wind
-
Gusty Nail
ガスティーネイル
(Storm of Talons)
Force Sorcery
Wind
-
Steife Brise
シュタイフェ・ブリーゼ
(Stiff Breeze)
Force Sorcery
Wind
-

PSP version only: gains a cut-in during the battle in Calegia Castle

Fearful Storm
フィアフルストーム
Fusionic Force Sorcery
Wind
Shade
-
Raspberry Gummy
ラズベリーグミ
Item
-

used when the party uses a Gummy-type item

heals [2000 + x * 1000] HP to self, where x is the number of difficulty levels above "Easy"

maximum is 6000 in "Unknown" or 7000 in the PSP-exclusive "God" difficulty
Ad blocker interference detected!
Wikia is a free-to-use site that makes money from advertising. We have a modified experience for viewers using ad blockers

Wikia is not accessible if you've made further modifications. Remove the custom ad blocker rule(s) and the page will load as expected.