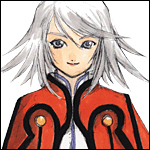 Base Artes (特技 - Tokugi)
Arte Name
Enabled Effects
Elemental Attributes
(Minor Elements)
Total Damage (%)
Max Hits
TP Cost
Requirements
Auto Item
オートアイテム
-
-
-
-
0

enables automatic use of an item through an arte shortcut
allows use of items while not controlled by the player
Novice Tier Spells (初級術 - Shokyuujutsu)
Arte Name
Enabled Effects
Elemental Attributes
(Minor Elements)
Total Damage (%)
Max Hits
Casting Time (seconds)
TP Cost
Requirements
First Aid
ファーストエイド
-
Water (1)
-
-
4.00
8
-

heals 30% of max HP to one ally

Dispel
ディスペル
-
Earth (1)
-
-
4.00
16
-

cures all magical ailments for one ally

Charge
チャージ
-
Lightning (1)
-
-
4.00
24
-

restores 15 TP to one ally
Mid Tier Spells (中級術 - Chuukyuujutsu)
Arte Name
Enabled Effects
Elemental Attributes
(Minor Elements)
Total Damage (%)
Max Hits
Casting Time (seconds)
TP Cost
Requirements
Recover
リカバー
-
Water (1)
-
-
6.00
12
-

cures all physical ailments for one ally

Sharpness
シャープネス
-
Fire (1)
-
-
6.00
12
-

increases one ally's P. ATK by 30% for 90 seconds

Barrier
バリアー
-
Earth (1)
-
-
6.00
8
-

increases one ally's P. DEF by 30% for 90 seconds

Photon
フォトン
-
Light (1)
560
5
6.00
34
Healing Circle
ハートレスサークル
Hurtless Circle
-
Wind (1)
-
-
6.00
56

heals up to 60% of max HP to all allies within an area of effect field
healing occurs in five increments of 12% of max HP each
High Tier Spells (上級術 - Joukyuujutsu)
Arte Name
Enabled Effects
Elemental Attributes
(Minor Elements)
Total Damage (%)
Max Hits
Casting Time (seconds)
TP Cost
Requirements
Divine Saber
ディバインセイバー
-
Light (2)
880
12
8.00
52
Resurrection
レイズデッド
Raise Dead
-
Light (2)
-
-
8.00
64

revives one KO'ed ally with 30% of max HP healed
fully heals ally if not KO'ed

Revitalize
リザレクション
Resurrection
-
Light (2)
-
-
8.00
76

heals up to 70% of max HP to all allies
healing occurs in seven increments of 10% of max HP each
Unison Attack (ユニゾンアタック)
Unison Attacks can be activated by pressing the "Artes" button when the Unison Gauge is filled by at least 50% and consumes 50% of the gauge on use. They can only be activated by Emil Castagnier or Marta Lualdi while either is controlled by the player. Ars Nova, Emil Castagnier's Devil's Maw, and Marta Lualdi's Divine Saber will override all other characters' attacks if the conditions of any attack is met, while that character is in the active party but not controlled by the player.
Arte Name
Elemental Attributes
Total Damage (%)
Max Hits
Requirements
Revitalize
リザレクション
Resurrection
Light
-
-

heals up to 70% of max HP to all allies
healing occurs in seven increments of 10% of max HP each
Mystic Artes (秘奥義 - Hi Ougi)
Arte Name
Elemental Attributes
Total Damage (%)
Max Hits
TP Cost
Requirements
Sacred Shine
セイクリッドシャイン
Light
4900
1
50

the skill "Special" must be equipped
the Unison Gauge must be red
activated by holding the

"Artes" button

during any high tier spell
References
Ad blocker interference detected!
Wikia is a free-to-use site that makes money from advertising. We have a modified experience for viewers using ad blockers

Wikia is not accessible if you've made further modifications. Remove the custom ad blocker rule(s) and the page will load as expected.