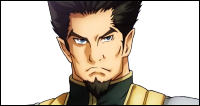 The following a list of all techs available to Botta in Tales of Symphonia. All techs exclusive to the PlayStation 2 and PlayStation 3 versions of the game are highlighted with a gray background.
Arte Name
Arte Type
Elemental Attributes
Requirements
Rock Breaker
岩砕陣
Gansaijin
Strike Arte
Earth
-
Decimation Field
砕破滅衝陣
Saiha Messhoujin
Arcane Arte
Earth

used on "Hard" difficulty or above

Stone Blast
ストーンブラスト
Magic Arte
Earth
-
Fire Ball
ファイアボール
Magic Arte
Fire
Stalagmite
ロックブレイク
Rock Break
Magic Arte
Earth
-
Ground Dasher
グランドダッシャー
Magic Arte
Earth
Ad blocker interference detected!
Wikia is a free-to-use site that makes money from advertising. We have a modified experience for viewers using ad blockers

Wikia is not accessible if you've made further modifications. Remove the custom ad blocker rule(s) and the page will load as expected.