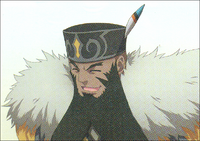 The following a list of all artes available to Jiao in Tales of Xillia 2.
Arte Name
Arte Type
Damage Type
Requirements
Devil's Maw
魔王地顎陣
Maou Chigakujin
Martial Arte
Earth
-
Gilded Fist
金剛拳
Kongouken
Martial Arte
-
-
Lone Wolf Charge
戦迅狼破
Senjinrouha
Martial Arte
-
-
Rending Quake
烈震天衝
Resshintenshou
Martial Arte
Earth
-
Wolf Strike
牙狼撃
Garougeki
Martial Arte
-
-
Call Monster 1
魔物コール1
Mamono Call 1
Martial Arte
-

calls a Sylvan Wolf ally to battle

Call Monster 2
魔物コール2
Mamono Call 2
Martial Arte
-

calls a Hawk ally to battle

Sundering Fang
虎牙砕破
Kogasaiha
Martial Arte
Arcane Arte
-
-
Fatal Crossing
フェイタルクロス
Fatal Cross
Linked Arte
-

Jiao must be linked with Wingul
triggered by Gilded Fist (Jiao) or Tiger Fang (Wingul)

Resounding Surge
轟魔隆衝断
Gouma Ryuushoudan
Mystic Arte
-

Over Limit mode must be active
extends from Sundering Fang
Ad blocker interference detected!
Wikia is a free-to-use site that makes money from advertising. We have a modified experience for viewers using ad blockers

Wikia is not accessible if you've made further modifications. Remove the custom ad blocker rule(s) and the page will load as expected.