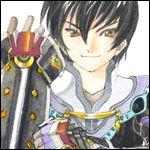 Martial Artes (武身技 - Bushinwaza)
Arte Name
Enabled Effects
Elemental Attributes
Sub-Status Attributes
[1]
Damage Effect
[2]
Damage Spread
Total Damage (%)
Max Hits
TP Cost
Requirements
Healer
治癒功
Chiyukou
-
-
Psyche
-
-
-
-
5
-

heals all allies within range in two bursts

heals between 24% and 12% of max HP at a rate of 12% to 6% HP per burst depending on the distance from Jude

action speed increases after 100 and 400 uses
healing range increases after 200 uses

Recovery Ring
快気孔
Kaikikou
-
-
-
-
-
-
-
13

cures all negative status ailments for all allies within a small range
action speed increases after 100 and 400 uses
healing range increases after 200 uses

Demon Fist
魔神拳
Majinken
-
-
-
-
0.34 x 1
1.70 x 1
204
2
6
-

projectile speed and range increase after 100 and 200 uses
the projectile penetrates targets after 400 uses

Cerberus Strike
三散華
Sazanka
-
Earth
Agility
Slow
1.00 x 3
300
3
9

attack speed increases after 200 uses

Steel
鋭招来
Eishourai
Stand Up
-
-
-
2.00 x 1
200
1
8

increases own physical attack power for 10 seconds
attack speed increases after 200 uses
effect increases by 10% after 400 uses
increases own physical defense for 10 seconds after 400 uses and the "Second Artes" skill is equipped

Palm Strike
掌底破
Shouteiha
-
-
Agility

Stun

3.00 x 1
300
1
7

attack speed increases after 100 uses
30% chance to inflict the "Stun" status ailment on enemies damaged by this attack after 200 uses

Aqua Sweep
転泡
Tenhou

Knockdown

Water
-
Weak
0.80 x 3
240
3
16

knockdown enabled against enemies that can be tripped
area of effect increases after 200 uses

Swallow Dance
飛燕連脚
Hienrenkyaku
Aerial


Stand Up

-
-
-
1.65 x 2


+ 1.65 x 1

330


[*495]

2


[*3]

10

max hit count increases by one if the "Second Artes 2" skill is equipped
Jude becomes airborne after executing this arte
attack speed increases after 200 uses
forces downed enemies to stand after 400 uses

Talon Storm
連牙弾
Rengadan
-
-
Agility
-
0.84 x 5
420
5
14

attack speed increases after 200 uses

Cyclonic Surge
烈風拳
Reppuuken
Aerial
Wind
-
Paralysis
1.00 x 3
300
3
16

chance to inflict the "Paralysis" status ailment increases after 200 uses
Jude becomes airborne after executing this arte

Beast
獅子戦吼
Shishisenkou
Aerial
Knockdown


Guard Break

-
Vitality
-
4.00 x 1
400
1
14

chance to "Guard Break" the enemy after 200 uses
chance to break enemy's "Iron Stance" effect increases after 200 uses

Whirlwind Snap
輪舞旋風
Rondosenpuu
Aerial
Wind
-
Paralysis
2.50 x 1
250
1
12

enemies hit by this attack are pulled towards Jude
distance pulled increases after 200 and 400 uses

Rising Falcon
飛天翔駆
Hitenshouku
Aerial
-
-
-
3.50 x 1


+ 0.70 x 1

350


[*420]

1


[*2]

15

adds an additional hit when activated from the ground after 200 uses

Soaring Vortex
巻空旋
Kankuusen
Knockdown
Wind
-
Paralysis
3.80 x 1
380
1
12

this arte will not activate unless an enemy that is not knocked down is within range
ignores enemy "Guard" action and "Iron Stance" effect
area of effect increases after 200 uses

Mirage Blitz
無影掌
Mueishou
Aerial
-
-

Stun

2.50 x 1


+ 0.50 x 1

---

[*0.00]

250/300

---

[*0]

1/2

9

chance to inflict the "Stun" status ailment on enemies damaged by this attack after 200 uses
chance to break enemy's "Iron Stance" effect increases after 200 uses
attack speed increases after 400 uses
the backstep motion will deal damage after 400 uses
deals no damage if activated midair

Raging Blast
烈破掌
Reppashou
Stand Up
Knockdown
Fire
-
Burn
1.50 x 1
3.00 x 1
450
2
18

chance to inflict the "Burn" status ailment increases after 100, 200, and 400 uses
forces downed enemies to stand, then returns them to a downed state

Dragon Shot
臥龍空破
Garyoukuuha
Stand Up
-
-
-
1.05 x 1
2.45 x 1


+ 1.05 x 1

350/455

2/3

18

Jude becomes airborne after executing this arte
adds an additional hit after 200 uses

Sun Spark
叛陽陣
Han'youjin
Knockdown
Light
-
Confusion
4.50 x 1

---

[*5.40 x 1]

450/540

1
20

range and damage increase after 200 uses

Phoenix Plunge
鳳墜拳
Houtsuiken
Aerial
Knockdown
Fire
Intelligence
Burn
2.00 x 1
3.00 x 1
500
2
18

Jude becomes airborne after executing this arte
knockback effect is reduced after 200 uses
knocks enemies higher upwards after 200 uses

Blunt Fang
尖牙
Senga
-
Dark
Dexterity
Terror


Instant Death

2.00 x 1
200
1
17

chance to cause "Instant Death" on a downed enemy

chance increases by 5% after 100, 200, and 400 uses

Muzét
ミュゼ
Musee
Stand Up
Fire
Water
Earth
Wind
-
Burn
Weak
Slow
Paralysis
 ?
1000
7
30

available only while Muzét is tethered to Jude

first hit forces downed enemies to stand
Second Artes (セカンドアーツ)
Arte Name
Enabled Effects
Elemental Attributes
Sub-Status Attributes
[1]
Damage Effect
[2]
Damage Spread
Total Damage (%)
Max Hits
TP Cost
Requirements
Immaculate Healer
連気治癒功
Renki Chiyukou
-
-
Psyche
-
-
-
-
5

heals between 36% and 18% of max HP at a rate of 12% to 6% HP per burst depending on the distance from Jude

Double Demon Fist
魔神拳・双牙
Majinken Souga
-
-
-
-
0.85 x 1
85
1
0

the "Second Artes" skill must be equipped
extends from Demon Fist by holding the

"Artes" button

Cerberus Blast
三散華・追蓮
Sazanka Tsuiren
-
-
Agility
-
1.50 x 1
150
1
0

the "Second Artes" skill must be equipped
extends from Cerberus Strike by holding the

"Artes" button

Coil
剛招来
Goushourai
Stand Up
-
-
-
2.00 x 1
200
1
8

increases physical attack power and defense temporarily

Reaper's Toll
双撞掌底破
Soudou Shouteiha
-
-
Agility
-
3.00 x 1
300
1
7

the "Second Artes 2" skill must be equipped
chains after Palm Strike by using it twice consecutively
Spirit Shifted Artes (魔技 - Magi - "Magic Artes")
Linked Artes (共鳴術技 - Kyoumei Jutsuwaza - "Link Artes")
See ToX - Linked Artes for more information and other combinations involving different characters.
Arcane Artes (奥義 - Ougi)
Arte Name
Enabled Effects
Elemental Attributes
Damage Effect
[2]
Damage Spread
Total Damage (%)
Max Hits
TP Cost
Requirements
Savage Roar
臥狼咆虎
Garouhouko
Knockdown
-
-
4.00 x 1
2.00 x 4
1200
5
30
Shattering Demon Fist
衝波魔神拳
Shouha Majinken
Stand Up
Knockdown
-
-
7.50 x 1
750
1
30

Event: acquired from the Arte Tome: "Tremorous Fist"
(

絶技の書「万震崩拳」

Zetsugi no Sho [Manshinhouken]

?

,
"Cutting Arte Book [Myriad Quakes Rupture Fist]"),
obtained after completing the game
Mystic Artes (秘奥義 - Hi Ougi)
Notes
↑ 1.0 1.1 1.2 Sub-Status Attributes: The damage output of each arte is affected by the given parameter. Effects and bonuses that increase the parameter increase damage accordingly. This effect only applies to offensive Martial Artes (

武身技

Bushinwaza

?

) and derivative arte types.
↑ 2.0 2.1 2.2 2.3 2.4 2.5 2.6 2.7 2.8 2.9 Damage Effect: The given status ailment has a chance of affecting any enemy damaged by the attack.
References
Ad blocker interference detected!
Wikia is a free-to-use site that makes money from advertising. We have a modified experience for viewers using ad blockers

Wikia is not accessible if you've made further modifications. Remove the custom ad blocker rule(s) and the page will load as expected.