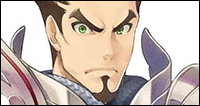 The following a list of all artes available to Sergei Strelka in Tales of Zestiria.
Arte Name
Arte Type
Damage Type
Requirements
Demon Fang
魔神剣
Majinken
Strike Arte
-
-
Dragon Swarm
爪竜連牙斬
Souryuu Rengazan
Strike Arte
-
-
Guard Flick
防御弾き
Bougyo Hiki
Strike Arte
-
-
Lion's Howl
獅子戦吼
Shishisenkou
(Beast)
Strike Arte
-
-
Sonic Thrust
瞬迅剣
Shunjinken
Strike Arte
-
-
Sword Rain
秋沙雨
Akisazame
(Sword Rain: Alpha)
Strike Arte
-
-
Tornado Drive
閃空裂破
Senkuureppa
(Light Spear)
Strike Arte
-
-
Ad blocker interference detected!
Wikia is a free-to-use site that makes money from advertising. We have a modified experience for viewers using ad blockers

Wikia is not accessible if you've made further modifications. Remove the custom ad blocker rule(s) and the page will load as expected.