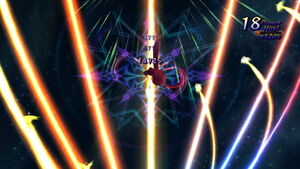 Trillion Drive (トリリオン・ドライブ, Toririon Doraibu?) is Cheria Barnes's fourth mystic arte, properly known as "Accel Finality", in the PlayStation 3 version of Tales of Graces.
Arte Description and History
When used, Cheria begins with one arm pointing up and one pointing down. She moves both by 180 degrees to form a glyph, in which knives appear on the outer ring. Cheria directs her hand forward, causing the knives to shoot from the circle and attack the enemy, subsequently moving outwards in a circle formation. Cheria then directs her hands upward, causing the knives to pick up the enemy from below and move it into a starry sky in which a glyph appears, formed by the knives which then return to Cheria. Finally, the knives spin in turn with Cheria, and the glyph erupts with a strong light beam aimed towards the earth, inflicting damage to the target caught within.
Appearances
Mothership Titles
In-Game Descriptions and Battle Quotes
Tales of Graces ƒ
Japanese Quote: 全弾行くわよ!泣いたところで、許してあげない!トリリオン・ドライブ!
Romanized Quote: Zendan ikuwayo! Naita tokorode, yurushite agenai! Toririon Doraibu!
Translated Quote: "All daggers, let's go! Even if you cry, I won't forgive you! Trillion Drive!"
Localized Quote: "Here it comes! It's too late to cry! I won't hold back! Trillion Drive!"
Ad blocker interference detected!
Wikia is a free-to-use site that makes money from advertising. We have a modified experience for viewers using ad blockers

Wikia is not accessible if you've made further modifications. Remove the custom ad blocker rule(s) and the page will load as expected.